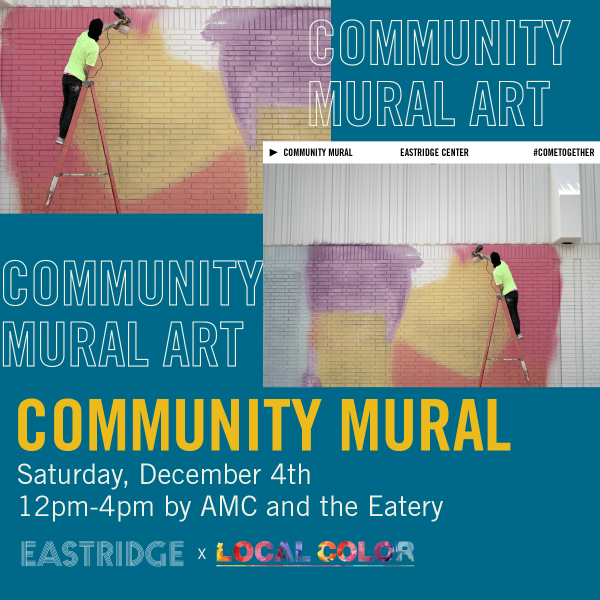 50th Anniversary Community Mural
Dec 4, 2021 - Dec 4, 2021
12:00 pm - 04:00 pm
Eastridge Center is partnering with Local Color and artist Frankie McFly to commemorate Eastridge's 50th Anniversary! Be a part of Eastridge's history by painting a section of our upcoming mural with the oversight of McFly. Come through Entrance E, and you will see the mural by our Eatery and AMC Theatres.
SIGN UP HERE
Artist Frankie McFly will paint the mural from 11/19-12/10 on-site at Eastridge Center to create a mural to help beautify the center and support local art.
San Jose, we hope you get to be a part of this moment in our history. Eastridge Center is a strong advocate of the arts. We will donate all proceeds from this event to Local Color to fund the development of future art projects in our San Jose Community.


The theme is inspired by the "Greetings From" mural group, Greetings Tour (Victor Ving and Lisa Beggs). The mural will read "Greetings from Eastridge." In addition, the artwork will be inspired by local history and landmarks relevant to San Jose.
All attendees must sign a waiver and attendees under 18 must have the permission from their parents or legal guardian to participate.


Find out more details about the hosts below:
Eastridge Center- eastridgecenter.com
Frankie McFly-www.frankiemcfly.com/
Local Color - www.localcolorsj.org/